I am completely new to Etna and its wines. A train from Palermo brings me to Catania and from there to the slopes of the active volcano, a gracious mountain. The smoke is white that morning, meaning we can travel safely (when black ash kicks in, the danger comes). Eruptions happen here on a regular basis and I'm super excited when we cross the lava flows of the past; some are thousands of years old, others are newer.
Ciro Biondi and his cellarmaster and winemaker Manfredi are, in fact, my first guides to Etna wines. The garage-like cellar reminds of the ideas of "true" wines, as some people like to call them: wines made with as little intervention as possible.
Luckily, on Etna this style is easier to produce than in many other wine regions of the world. By the time Ciro, who took over the family wine business in 1999, arrives at the Cisterna Fuori, one of the company's volcanic—lava—terraced vineyards, Manfredi and I have already had a visit to the cellars, located right in the small local town of Trecastagni, some 20 km away from Catania. The weather is strikingly hot and my white skin is burning fast (you have to mind the UV light here).
We sit down to talk about Etna and the wines, as if we had nothing more to do that day. Ciro speaks.
"From my own personal small experience, it's a fantastic place for making wine. Etna is a special place like Piedmont or Burgundy. We are lucky to have our own indigenous grape varieties, but it's tricky. Some people say: "I love Nerello Mascalese", "I love Carricante", but the thing is that Etna wine can only be made on Etna — it doesn't matter what kind of grape you plant here.
The second thing is that the soils on Etna are very diverse: even 300 meters from one vineyard to another. Every time Etna spits lava in different directions, the mineral content of the different vineyards changes. The same grape variety planted in different soils can produce different wines".
I ask Ciro if this means that volcanic soil cannot be used as a wine descriptor.
"It can be, but the reality is more complex than that. Soils are not the same in different sites. When I was starting in 1999, I was curious and I wanted to get control of these different aspects — but after a few years I realized that I was being stupid because you can't control nature. It's something bigger than you. The only thing you can do is try to preserve the best fruit and not destroy it in the cellar. That's what you can do.
And, in fact, we do very little in the cellar. We don't want to disturb the wines, and normally we don't let people inside. The wine should be relaxed and not stressed by constant visits. We don't even taste wines in the cellar; Manfredi just gets the samples and we taste outside. We sit and we taste. The evolution in the barrels is magic. Maybe a scientist could explain, but I don't want to have a scientist in the cellar".
I am looking at Ciro, who is pouring his Outis 2015 Etna DOC Bianco, a wine made from Carricante, Cataratto and Minnella (the last grape is totally new to me). The wine shows pleasant acidity and citrusy to green-apple character, and we debate with Ciro for a while about personal wine perceptions. "If this reminds you of apple, let it be apple," concludes Ciro. Well, for me it does. I ask Ciro if I can make broader judgments about Etna after tasting his wines.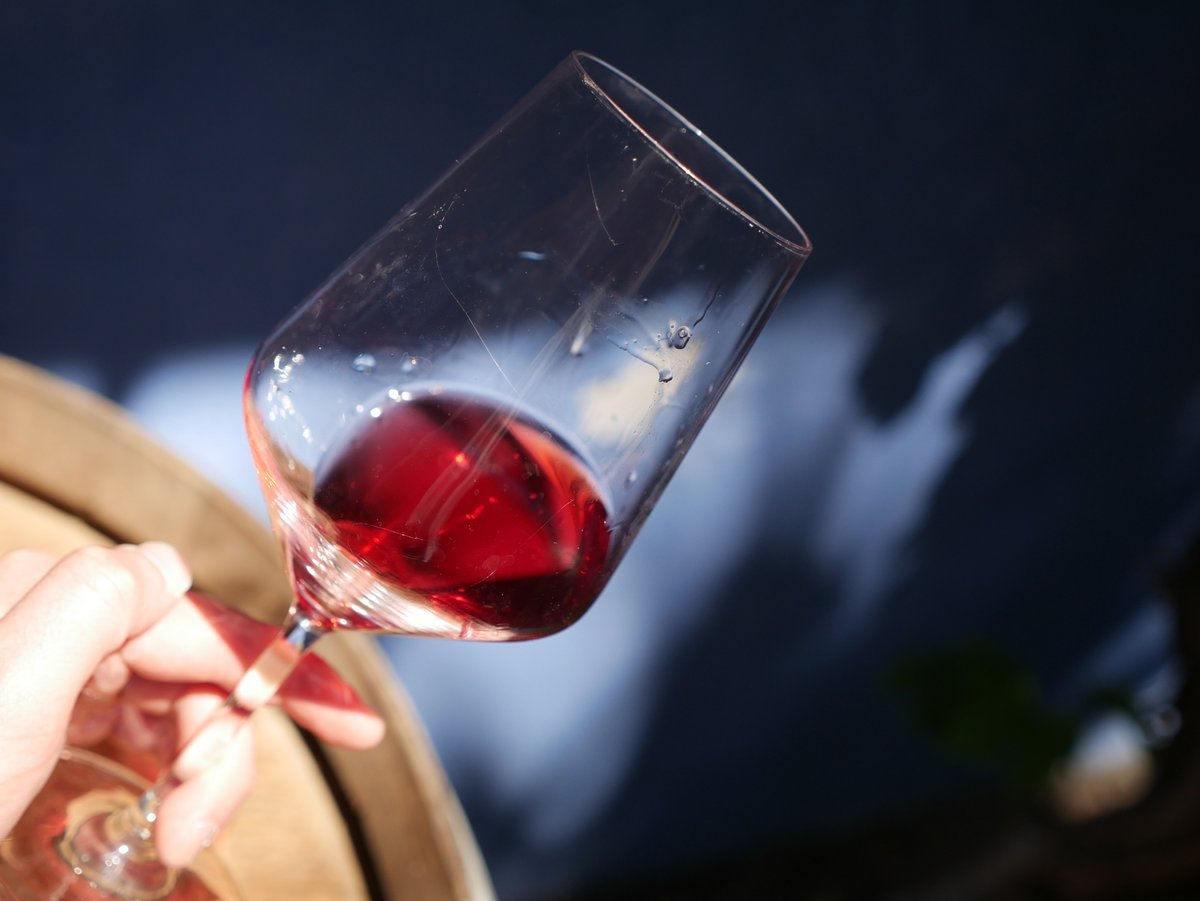 "I am not so representative of all Etna. Of my vineyards — yes. If you want to say "This is Etna," I will most probably disagree; I am very humble about this. There are some similar qualities in Etna wines, including sapidity, freshness, easiness of drinking.
For me it's important that you can drink the wine, more than a glass of it. If you're having just one glass of wine you're either in a hurry, or you don't like the wine, or you don't want to have your head dizzy. I don't tell you it's good to get drunk but to relax a bit and open your mind. Stop caring if you say something stupid because the other person does not care either. So it's a moment of social drinking.
I want to achieve more crispy whites with more acidity, cleaner and more citrusy. As a wine producer, I have as my objective what cannot be achieved in one life, you need several generations. I need to get as close to the wines I love the most, which are Burgundy wines. This doesn't imply I want to copy them, not at all! But I want to have the same sensation as when I drink something from there, with different soils. Not the flavors, but the idea of the complexity of certain wines, the enjoyability of those wines. I'm not copying, I am stealing! (laughs)
The Walls
"The walls in the Chianta vineyard were built by my great-grandfather in the middle of the 1500's. The last ones who made quality wines were my grandfather and his brother (my great-uncle); they managed to win some medals in 1913-1914 in Paris, Lyon and some other places in Northern Italy. Then the war came and my great-uncle went to the First World War, got tuberculosis and died in 1928. He was an oenologist; my grandfather was the one who took care of the vineyards, so it was a crisis after he died. After World War II he had to invest a lot to build a new cellar, and my dad didn't think it was worth it. He abandoned most of the vineyards, especially the upper parts, but kept producing from the lower parts. For 40 years there was a stagnating process with little production. In 1999 my wife and I decided to take over. We went beyond that — we started to produce better wine and get some recognition. With this activity (and I don't want to call it business because it's not) we started to invest more and improve every year".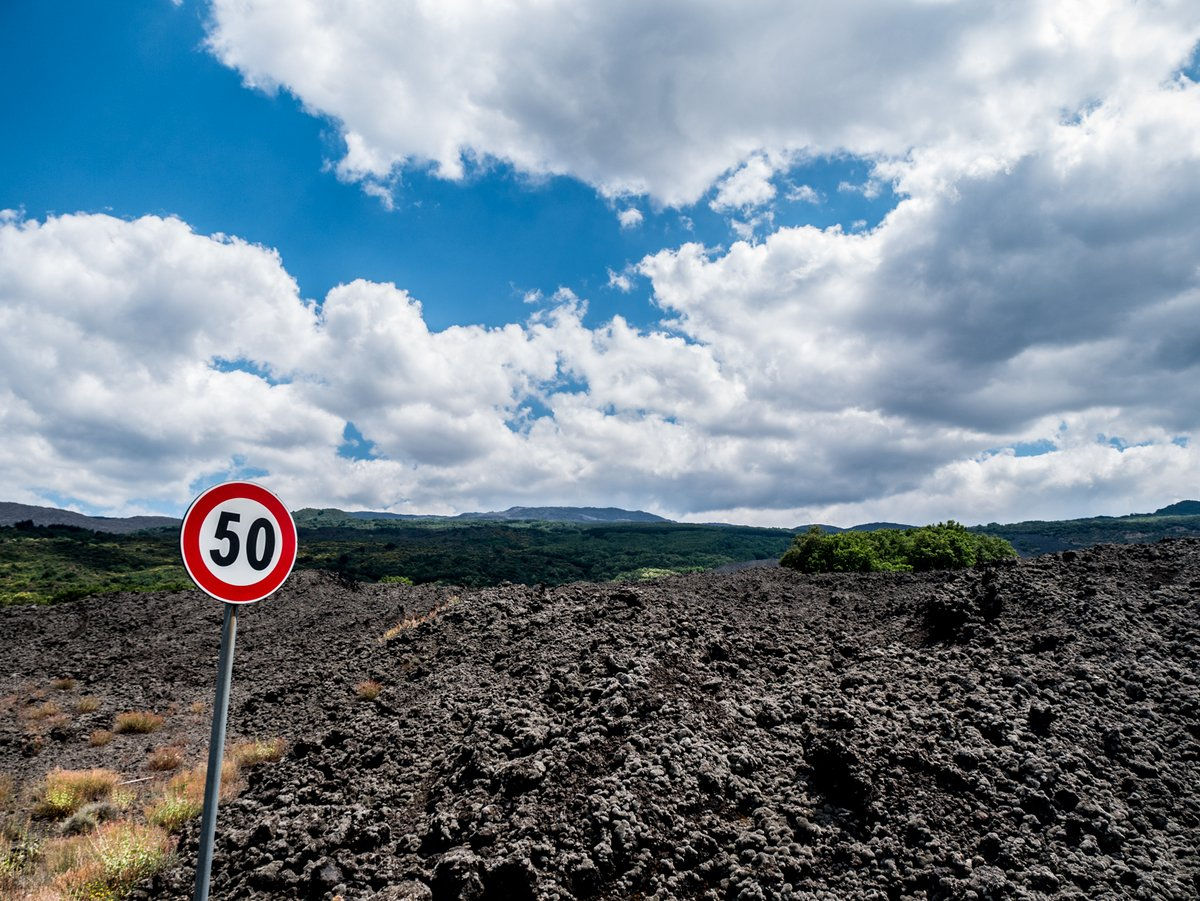 Can you make great wines with no money?
"Yes, you can. Money can make your life easier, you can stress yourself less. But when you have a lot of money, you can spoil the initial idea when you start your wine production. The more money you have, the more money you want; that's inevitable. You are corrupted by the money. And you know, we are very rich, but not with money, with quality. Sometimes we struggle, but we are not doing it to make money. We want to enjoy drinking wines in the evening. When it's too much for us to drink, we sell".
Knowing that Ciro is also an architect and doing some interesting work for the Sicilian government, I ask him about the balance between wine and the "real job".
"The other job I have is more about a pension and retirement plan. With that work, I can have some safety. Work in the office keeps my feet on the ground, keeps me connected to the world. It's not that I am "Mr. Biondi, the wine producer" — I am not. I am lucky that I have things I love to do!"
The next white in the glass, Chianta 2015, is also a blend of Carricante, Cataratto and Minnella.
"With this white we do 24 hours of skin contact and then we press, vinify the juice and start the fermentation. We add SO2 to stop the "malo," because we want to have more acidity. We are always trying to do something different and to improve. We are in the new era of Etna. We do battonage every week for 9 months and then we bottle".
How did you end up with this winemaking formula?
"Everything starts in 2011, when we went to Burgundy and we were lucky to visit some nice producers. The best wine was Montrachet 2002 from DRC. I remember after the tasting I told Stefany: "I quit. What we are doing is just pathetic." That wine was so beautiful, was great, and I still have this idea in my head. One generation will not be enough to produce this kind of complexity.
In the end, there are two things you can do. One is to copy the form and another is to copy the content. For the first one I should have come back here and planted Chardonnay. For the content, I can try to do the same things to our grapes they apply to theirs. And see if it works. So we are doing this".
But doesn't chardonnay make sense here?
"I don't know. For me Chardonnay is Chablis, Montrachet, for me it's Pouilly-Fuissé. But when I tasted Franchetti's Chardonnay, I sent him my congratulations. It tasted like Etna, not like Chardonnay. The idea of producing Chardonnay in my vineyards makes me feel reckless. I want to use my grape varieties—and probably give up later, when I accept I cannot get any further than that. But, at least, I want to try".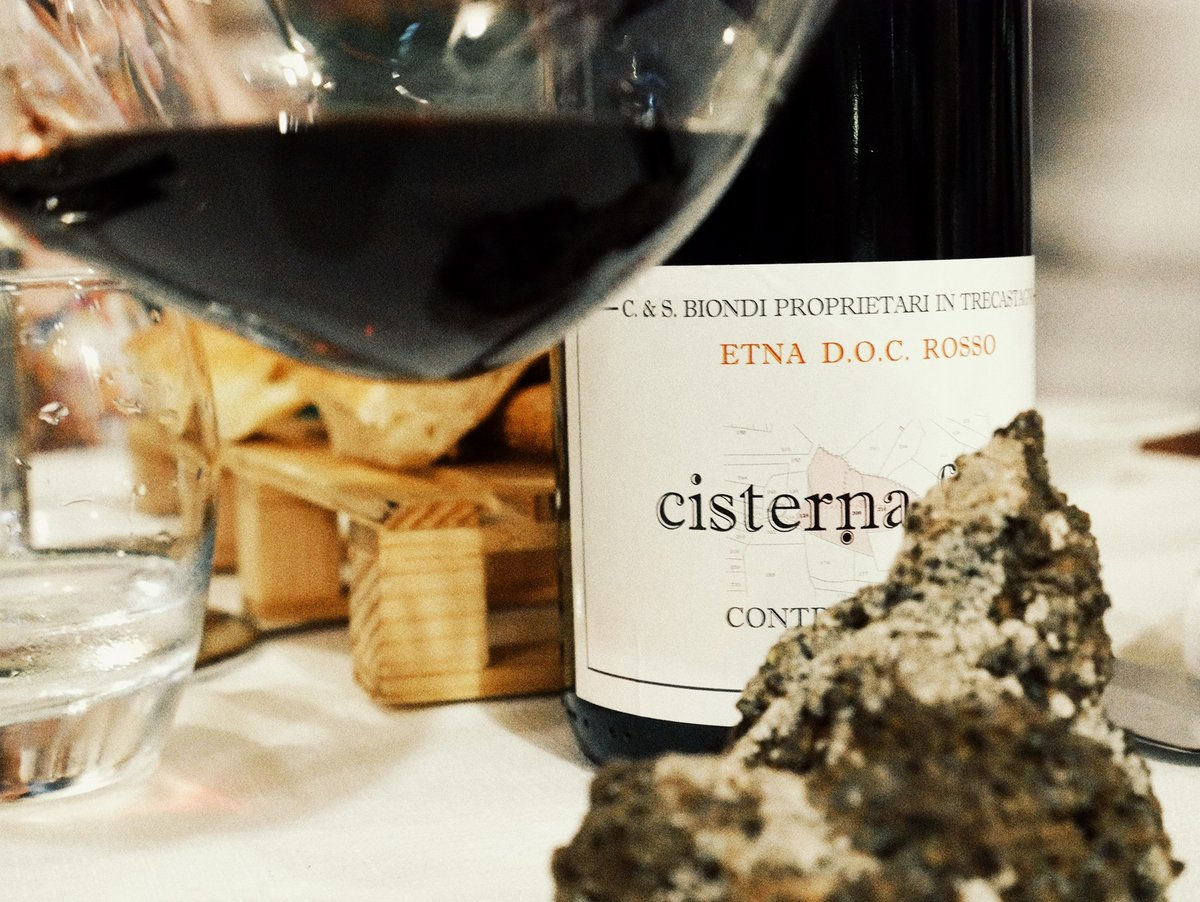 What is the influence of Etna?
"Everything! Can you feel the breeze? In the daytime, it goes up from the sea, in the night it goes the other way. One effect is that we don't have any problem with humidity or frost, and the second one is that the day-night temperature difference is enormous, 35 at day and maybe 15-16 at night, and you know that it's the most important thing. It's like sending the grapes to the gym".
Or to have a contrast shower.
"That's right".
On science
"Many people have asked me if I checked what the soil composition in my San Nicolo vineyard was. My answer is always: "Why?". I know these wines are different. This is something nature is doing for you, so let it be.
Remember, the good wines we drink now were made because of mistakes. Remember Champagne. Here I can respect nature. If I can use some science in the cellar to make my life easier, I will do it, because I am not a fundamentalist. I am not clever, but I'm not stupid either (laughs)".
Does this mean wine shouldn't be judged by numbers, for example?
"It's awful. Let me tell you something: we were at Romanee-Conti. I didn't dare to ask a question and there was a guy asking a cellar master: "Could you please tell me the pH of this wine?" The cellarmaster's face turned red: "Look: when you're having a dinner with a beautiful woman for the first time in your life, enjoying the meal, drinking wine, will you ever ask her about the cholesterol level in her blood?" Do you like this wine or not? Does it give you emotion? When you're going to an art gallery, do you have to know the date the artist died to appreciate the picture? It's emotion, poetry, how can you describe it?
For example, Cisterna Fuori is a beautiful vineyard, it's like a great theatre; it's a magic place and very important for me because I got married in that place. This story people will remember. I'd never tell them the pH level and probably they wouldn't even know what "pH" stands for, and anyway, even if they knew, they'd forget it soon enough! Probably I'm wrong, but this is my way to tell people my life because this is my life".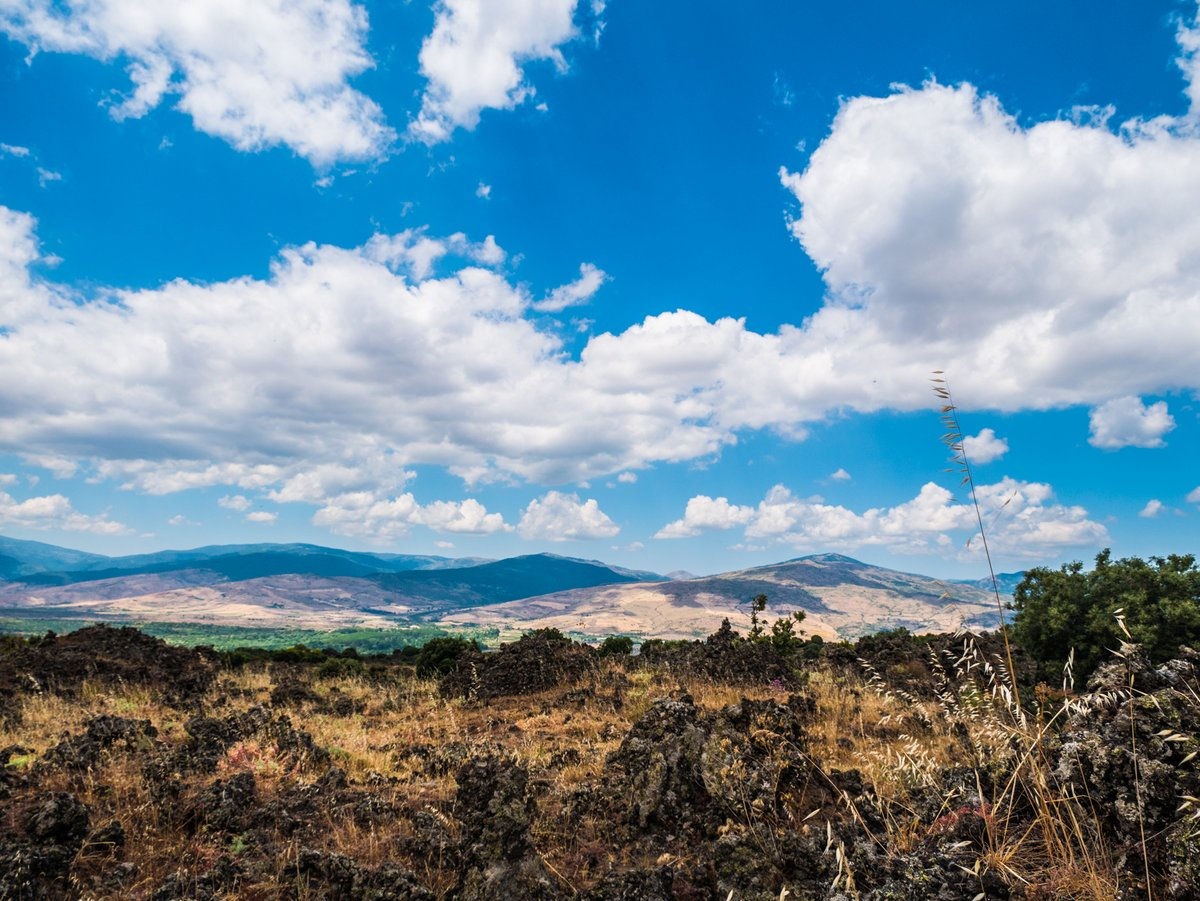 In reds, Biondi blends Nerello Mascalese and Nerello Cappuccio, allowing him to showcase the differences between vineyards and vines' ages. While Outis 2015 is a nicely balanced red, it strikes with peppery notes, palatable tannins and definitive structure, not too big, but pleasant to feel its presence. San Nicolo', located on a steep slope of a former crater not far from the shores of the Ionian sea, is more reminiscent of a tea rose, more structure and tannins. The culmination of all the reds is the lush Cisterna Fuori, an elegant, structured wine that reflects Ciro's passion for complex Burgundies. Another day I drank it in Taormina's top restaurant Vineria Modi with a piece of melting-in-the-mouth medium-rare local steak, and it was just a match made in heaven.
I am looking at Ciro, who is looking at me, trying to catch what I think about Cisterna Fuori. He suddenly says that he'd rather hear some criticism than flattery. Unfortunately, I cannot say anything critical about this one and fail.
Are you good friends with Etna winemakers?
"In 1999 when we started in Etna, there were probably seven wine producers that when you open a bottle from them, you can finish it without any problem. Now we are 130 if not more. Still, we are a very tight community, we are good friends if I have a problem I'd call another producer. People are surprised by this; it's quite rare in Italy".
Is the current interest in Etna wines good for the region?
"It depends on us. How we take it. If we feel like stars, then we can destroy the area".